A golden retriever has a surprising encounter with a chick: "Go back to Jurassic Park!"
A golden retriever pup was anything but impressed after meeting a chick for the first time, and he certainly let the animal and his humans know.
New York, New York- A Golden retriever wasn't so sure about the "baby dinosaur" chick his human had introduced him to, and he made sure everyone was aware of his reservations.
Hudson the golden retriever is known for his goofy nature which his humans showcase on his own dedicated Instagram account where they tell his every thought.
In a video posted Friday, Hudson has a strange encounter with an unknown enemy: a chick.
At first, the dog seemed puzzled by the little guy, advancing towards him as text on the screen read "Henlo baby dinosaur."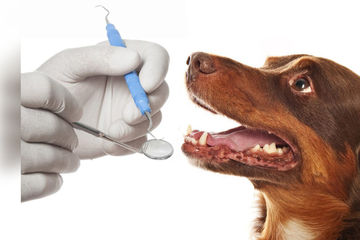 guide dog
Dental Care for Dogs: How to Treat Toothaches and Find a Dog Dentist
But once the chick started heading for the pup, all bets were off as Hudson attempted to offer his new foe a compromise.
"I don't love you and you don't love me, so let's keep our distance," Hudson said. For some reason, the chick didn't seem to understand the pup's human-translated thoughts, as it approached the golden retriever, who let out a loud bark to say "Whoa, take it easy!"
As Hudson zooms out to find safety in another room of what appears to be a vet's office, he takes one last look at the chick, then turns his head away as text on the screen reads: "No thanks mom, it's a dinosaur."
To show how unimpressed he was with the chick's mere existence, Hudson then seemingly said, "go back to Jurassic Park," before letting out two big barks.
Here's hoping neither Hudson nor the chick were too traumatized by the goofy encounter!