This week we saw an adorable ragdoll cat that looks like WALL-E from the Disney Pixar movie and we laughed when we saw French bulldog Quinn learning to play swingball in the backyard.
During this time, we have been thrilled by the submissions from pet readers across the country and given the difficult task of choosing our Newsweek Pet of the week.
Remember, if you think your pet could be part of our weekly lineup, read until the end of this article to find out how you can get involved.
Winner
Our winner this week is Delilah, the black golden retriever from Monterey, California.
Almost 1 year old, the dog lives with owners Gloria and Jim Fucillo, who sadly lost golden retrievers, Roxanne, 14, and Cleopatra, 9, in 2021.
"A few months later, we consulted the AKC [American Kennel Club] website and found a breeder," said Gloria Newsweek"From everything we read, we knew she was the right person to contact."
Gloria and her husband made the trip to Oak Meadow Goldens in Grass Valley, Calif., where Teresa Marsh breeds golden retriever dogs for families.
It wasn't long before Delilah was part of the family and she was ready to leave for her new forever home on their second visit.
"[She is] a wonderful, playful companion," Gloria said, "We go to the beach three to five times a week and she's learning to surf. She loves water – all water – which makes it a chore even to water the plants without her "help". "
Delilah is going everywhere with her passionate new owners and will soon return to Oak Meadow Goldens to visit her mother and breeder Teresa to celebrate her birthday.
Finalists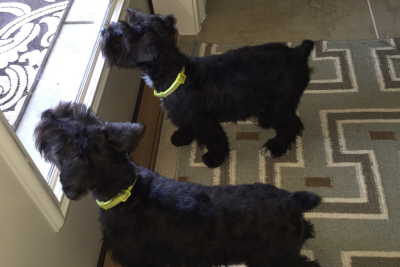 As always, it was impossible to pick just one favorite pet, and our first runners-up this week are the gorgeous Miniature Schnauzers Biscuit and Rufus.
Living in central Pennsylvania, the "Boys" – as they are collectively known – are widely traveled pets.
Owner Karon Ishida said Newsweek: "In 2015, we were traveling across the country in a motorhome (recreational vehicle) with the grandchildren when we answered an ad in the local newspaper. There were two males left from a litter of seven, and It was love at first sight."
The dogs spent the next three weeks in the motorhome traveling with their new owners. "That explains their great enthusiasm for traveling anywhere and children's visits," Ishida said.
These days, Biscuit and Rufus spend a lot of time stalking sparrows in the holly bush near the house, and Ishida says they're great watchdogs and also make great nighttime toe warmers. winter in Pennsylvania.
"They are so loyal, with big personalities: Biscuit is very smart, but a bit shy, while Rufus is a carefree adventurer," their loving owner said.
Next up is Boo Boo, a 4-year-old rescue cat, who lives with her owner Barbara Grillo in Weston, Florida, just west of Fort Lauderdale.
"Boo Boo is a feral cat who came home to eat with his siblings one day," Grillo said. Newsweek"She was just a doll because she wanted to come inside and be pampered with tummy and back massages. That was four years ago."
Every morning when Grillo gets ready to do a morning yoga routine, Boo Boo is sure to join him lying on the mat.
"I have multiple sclerosis," Grillo said. "She keeps me company when my husband is at work.
"Her temper is sweet and funny as she always makes us smile. Her funny antics, like throwing her toys and running around the house when she has the zooms, just brings me laughs and joy."
Last but certainly not least is the gorgeous Bingo Cat from Florida, who lives with Nadene Gariety.
Abandoned with her sister in a local church, Bingo was found by her owners who had just lost their 13-year-old cat and were heartbroken.
"We fell in love with each other," Gariety said Newsweek. The Bingo owners say the humans and the cat ran away and are now all very happy.
Do you think your pet has what it takes to be part of our Newsweek Pet of the Week? Send photos and videos to [email protected] with some details about your best friend and they could be our pet of the week.